Note: This was evolving information at the time and, thankfully, the policies have changed, making smarter options available for partners to access customers.
If you've come here looking for information about licenses, please see our summary Microsoft Dynamics 365 Business Central License Guide!
As we have multiple Microsoft Dynamics 365 Business Central On-Premise customers coming online this year that have opted to purchase CALs (the perpetual license model) rather than SALs (the subscription license model), this topic was very important to us to better understand how we can support our customers.
You may have followed along with my November / December posts about this issue, pardon the recap (I'll note where you can skip ahead to):
When the new Named User versus Concurrent was announced with the release of the On-Premise edition, I was concerned about how we would access customer's systems as a partner. We have a number of customers today on Dynamics NAV who have precisely the number of Concurrent User Licenses that they need, so when they need us to support them by connecting to their production system, we have to ask them to have someone close their session. With Named Users, that won't work. So, I was excited to see this in the Licensing Guide, the October version: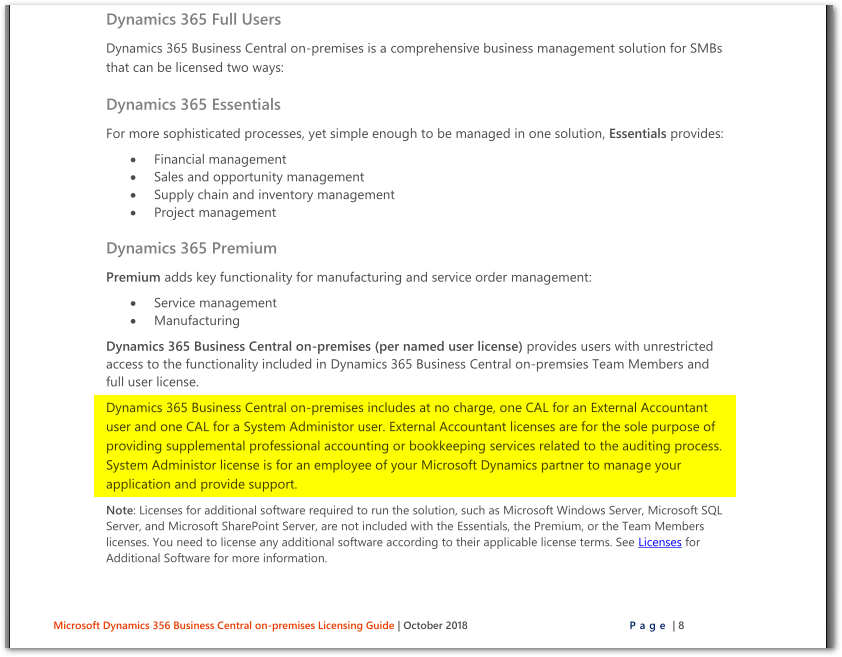 Very clear cut. The section covering the SAL is back on Page 3, so this is specifically about On-Premise CALs.
At the end of November, we had closed deals on new customers and were beginning to take steps to support them. Immediately, we ran into the fact that everything highlighted above is not true. Support case opened, and here we are a month later.
Note: This highlighted passage was still present in the November 2018 version of the guide:


Today

I have received what the support team called the "official / final answer":
We don't offer free licenses for perpetual on-prem licenses. The mentioned text in the licensing guide, speaks to SAL which is used for subscription access license not perpetual.

There are no plans to update the licensing guide which means it will not be adjusted / nor corrected.

Just for laughs, I checked, and yes, the Licensing Guide (PartnerSource login required to access) has been updated for December 2018: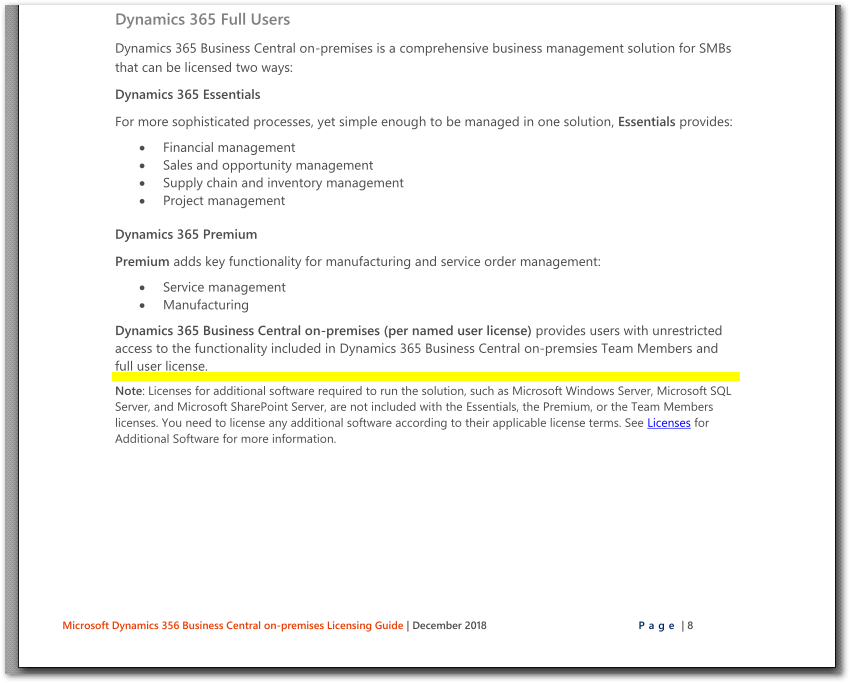 I highlighted where the now removed paragraph used to be.
So, there you have it. There is no System Administrator or External Accountant license when running On-Premise Perpetual (CAL). Partners needing to access production systems officially need to have a fully licensed Named User (presumably, any other creative solutions are not permitted).
I, for one, look greatly forward to explaining to customers that we have to screen share with them to touch their system like it's the 90's.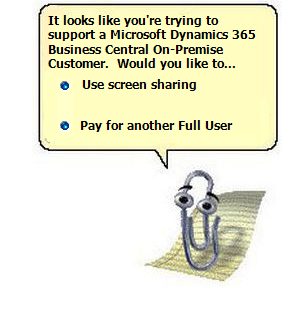 I also imagine I'll enjoy this battle all over again in the sequel when we have a customer select SAL licensing and we allegedly should have "System Administrator User" access again…