The Action Pane of the Role Tailored Client, introduced in Microsoft Dynamics NAV 2009, is full of great shortcuts to different actions, tasks, and reports (as shown below).


But, sometimes the things you need regularly are tucked away in the Actions, Related Information, or Reports menus.  You can add those to the Action Pane easily.
Sticky Summary:
Customize Menu
Customize Action Pane
Choose your Group
Add to the Actions
Select from the Actions, Reports
or Related Information
Click OK twice.
For our example today, we're going to add a quick link to creating a new Sales Credit Memo to our Customer list.  We already have lots of other options:

So, in the upper right corder, there is this little Customize button:

When you select Customize Action Pane, you'll be able to adjust your Action Pane: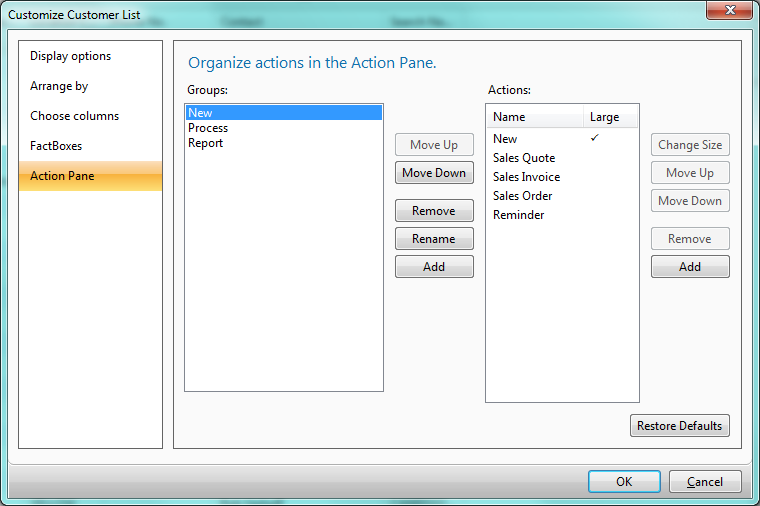 This window is a little confusing until you know what it's covering.  From left to right:
The far left list is what part of the Page we're customizing.
The next list is what Groups your buttons will be placed in, with some buttons to control the Groups list to the right.
The last list are the Actions in the Group currently selected, along with some buttons to control the Actions list to the right again.
We'll change the New group, which is already selected.   Press the Add button to the right of the Actions list.  This will open up the dialog to select what Action, Report, or Related Information you'd like: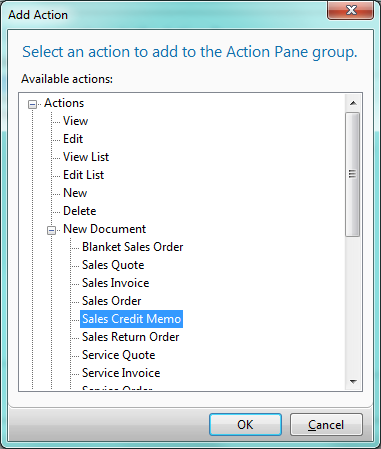 In our example, we want Actions, New Document, Sales Credit Memo.  We'll have to click OK a couple times, after which, we'll have our new Action:

The ability to take tasks that are tucked away and bring them front and center to your interface, you can save valuable time.