Note: This was evolving information at the time and, thankfully, the policies have changed, making smarter options available for partners to access customers.
If you've come here looking for information about licenses, please see the License Guide!
Disclaimer: I'm hopeful this is right, it's a very confusing area of Licensing. Please contact me and let me know if you have knowledge this is incorrect in any way! This is not legal advice, and I am not a lawyer. I do not represent Microsoft and cannot be used as an authority for legal purposes. This is review and interpretation of a Microsoft "Information Purposes Only" document.
We've had a lot of discussions in house about how the Licensing changes will affect our customers. An area of particular focus came up: If everyone is a Named User, then how do we license things as a Partner so we can access the customer's system? Do we have to tell them to buy one for us?
In the October 2018 Dynamics 365 Business Central On-Premise Licensing Guide, we can find some answers:
For on-premise Subscription Licensing, if you buy Subscription Licenses (SALs):

Yes, that clearly says users get one SAL for a partner if you are running under the Subscription license.

Further down, when we talk on-premise Perpetual Licensing, we have this matching text about the CALs:

So, in theory, according to the current documentation, if a customer licenses 365 Business Central under either the Perpetual or Subscription Licenses, they are supposed to have two extra licenses: one for an auditor (an External Accountant User), one for their NAV partner (a System Administrator User).
This can be easily confused with licensing about External Users, which is a different thing entirely: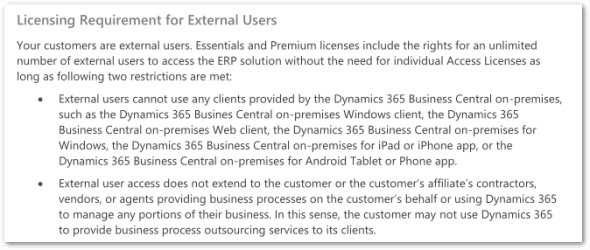 With an External User, you cannot use the Windows, Web, Mobile, or Tablet Clients. You can only touch Dynamics 365 via various APIs that are available.
What this document does NOT clarify is how those External Accountant User and System Admininistrator User licenses will appear in the available sessions, nor does it clarify how we must set them in the User Setup:

If you set them to External User, they will not be able to access the Clients, so presumably they will be set to Full Users.
Microsoft Staff: If you are reading this, please please consider this:
If clients get logically assigned SALs and CALs for an External Accountant User and a System Admininistrator User,please make those options in the License Type Drop-down. Zero confusion that way.
Rename "External User" to "Data Access User" or "API Access User".